AMG celebrates and congratulates SalamAir on its 6th Anniversary
The Airline Management Group team are proud to have been involved at the very inception of SalamAir; from initial business plan to certification, from naming to brand launch, from operational set up to commercial flights!
Omani Aviation history was made on the 30th January 2017 when flight OV002 departed from Salalah for Muscat – the Sultanate's first value carrier took to the skies. The airline start up implementation period was both incredibly challenging and rewarding, from operations to commercial. from engineering to finance, from crew to ground handling, we were fortunate to have an incredibly talented, passionate and resilient team. Everyone involved, from team members to suppliers, from stakeholders to customers, felt an immense sense of pride and achievement when OV002 touched down and was welcomed by the water salute at Muscat Airport.
SalamAir has survived and overcome the regional and global aviation adversities with grace and success, flying to 35 destinations, SalamAir is a major operator of domestic destinations in the Sultanate, as well as international travel. The airline has been recognised as having one of the youngest fleet in the world with 11 aircraft including the A320neo, A321neo, and the recently introduced A321neo Cargo Freighter. SalamAir placed an order for six new Embraer E2 aircraft earlier in the year.
SalamAir has received multiple awards including Oman's Most Trusted Brand, and has secured IATA's Operational Safety Audit Registration, committed to the industry's highest safety and regulatory standards.
We celebrate and congratulate SalamAir on its 6th Anniversary, wishing the whole team continued success!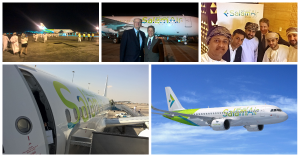 #salamair #6thanniversary #2023 #airline #startup #airlines #oman #team #success #brand